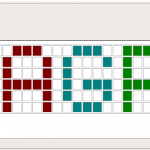 I just got this art piece by email from a person unknown to me. It contains a HTML table with coloured cells that form the letters V I A G R A.
To trick spam filters spammers always need be one step ahead of filter maintainers, which results in a constant creative arms race, letting both sides dive deeper into existing technology. Our spam filter at Ecobytes for example looks into PDF attachments of emails, finds images with text and tries to read the text to search for offending words. I find that quite a performance for a machine a.k.a. toaster. But in this case the spammer actually used some retro thinking. Bravo! Good luck finding spam signatures in coloured tables, dear spam assassins. 🙂
Spam has been inspiring artists since a while now. Check out Alex Dragulescu's beautiful Spam Plants, Linzie Hunter's typographic Spam One-liners or the Spam Garden. On the other hand there is ASCII art spam too now.
Here is my response: I just wrote a table text generator, which you can use to create pretty text like in the image or to scramble your email address. 🙂
PS: Yes, this is the first post with an image on this blog. There will be more!