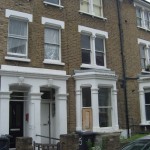 Section 6 Criminal Law Act 1977, as amended by Criminal Justice and Public Order Act 1994 (United Kingdom, applies to England and Wales)
Take notice
That we live in this property, it is our home and we intend to stay here.
That at all times there is at least one person in this property.
That any entry or attempt to enter into this property without our permission is a criminal offence as any one of us who is in physical possession is opposed to entry without our permission.
That if you attempt to enter by violence or by threatening violence we will prosecute you. You may receive a sentence of up to six months imprisonment and/or a fine of up to £5,000.
That if you want to get us out you will have to issue a claim in the County Court or in the High Court, or produce to us a written statement or certificate in terms of S.12A Criminal Law Act, 1977 (as inserted by Criminal Justice and Public Order Act, 1994).
That it is an offence under S.12A (8) Criminal Law Act 1977 (as amended) to knowingly make a false statement to obtain a written statement for the purposes of S. 12A. A person guilty of such an offence may receive a sentence of up to six months imprisonment and/or a fine of up to £5,000.
Signed
The Occupiers
(To be posted at the entrance of a squatted property, also valid if not signed by name)
This states the current squatter's rights in England and Wales and basically means that the owner or landlady/landlord of a property can not evict you from your squat without going through court, proving that they are the owners and that the last tenancy has ended. Court procedures usually take weeks or months, so once you are in you will have a home for a while. If they try to evict illegally they can end up in prison for 6 months and having to pay £5,000 (currently around €6000) in fines. This makes squatting more or less legal in England and Wales. Sweet.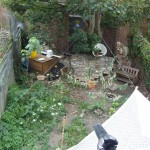 We have an upcoming court case for one flat in our squat on 3 September 2010. Visiting the Advisory Service For Squatters (ASS) office at Whitechapel today should allow us to get a good defense going. We suspect that the owner (council) wants to save some paperwork by getting an eviction warrant for one flat and evict the other flat while they are at it on eviction day. Which, of course, is not legal..
Until then we will continue to take good care of the building: keep it clean, fix little damages, trim plants in the garden, prevent decay and be good neighbours — while enjoying a free home with a garden in Brixton. 🙂